Hi All,
Hope you're keeping well and enjoying your radio.
As some of you are aware I've been having right old fun building antennas!
There's a lot to choose from design wise, some will never live up to their expectations, some are difficult to construct, some are downright weird at first......but some are rather easier.
The following is one that was much easier than anticipated, works as well as my
Yagi-Uda 6 element beam
in that I can also open seven repeaters with it from my location and I went all 'Blue Peter' on this one grabbing whatever was to hand.
You could all probably do something similar.
Here it is in it's 'sticky-backed' glory...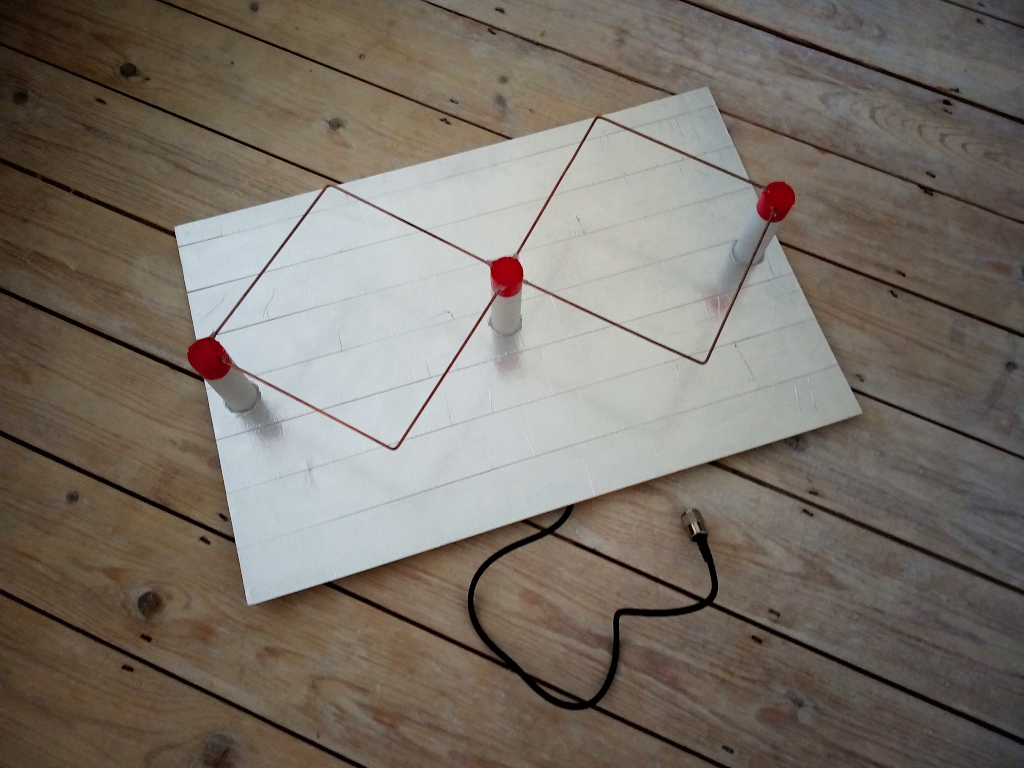 "WTF is that?" I hear you say.
Well it's two bits of copper welding rod, a stout cardboard tube from an empty cling film pack, (thanks goes to my Missus who asked if it was any use before she chucked it - she knows me well!), a piece of hardboard, but a good bit of cardboard would do in a pinch and some aluminium foil tape.
Couple of hours later, judicious use of a hot glue gun to hold it together and Bob's your Uncle.
Yeah, I didn't think it'd be up to much and was pleasantly surprised when I opened up the GB3TU repeater first go whilst hand holding this 'Arts & Crafts' antenna.
(In the house no less, in my radio room/spare bedroom, on a Baofeng! Tested all the way down to 'low' power which through a 50 dummy load measures as 0.9 Watts!)
The damn thing WORKS! Not only that but really well.....so much so I have plans to build a more permanent version of it too.
Now, you know you want to build one don't you?
No?
Well with a few adjustments on the measurements this thing would be perfect for those that like to use the slightly 'higher' frequencies above the Amateur 70cms.
(Shhh, I didn't say that.
)
So I'll give you some details.....
This was all thanks to stumbling across an antenna image that lead me to the website of Andy Dunham G6OHM :-
https://g6ohm.webs.com/antennadesigns.htm
Scroll down the page a bit and you'll come across the details of how he constructed his own, (labelled "70cm Double Quad Beam"). The glorious example by his friend Roy M6CKI with what looks like a 'baking foil' reflector struck the deal for me to have a go at building one.
I actually used the measurements Andy suggested but did come across an online calculator if anyone is interested :-
https://buildyourownantenna.blogspot.com/2014/07/double-biquad-antenna-calculator.html
There are some other calculators out there but not many actually come anywhere near those derived from the formula(?)
Oh God, I've mentioned 'formula', 'calculations', etc. but exclaimed this thing is easy to build?!?!
Well put it this way, the damn thing spans some 40Mhz at less than 2:1 SWR and at first I thought I'd done something wrong with the NanoVNA! (Thanks again to the Charlie Tango member that donated it.
) Honestly, you could be way out with the cutting and bending of the antenna element wire and still have a working example.
You don't need a NanoVNA, you'd probably get away without measuring the SWR and best of all you could construct it with whatever you have laying around. (You'll notice my 'reflector' isn't square as the hardboard wasn't that wide - yet still works!)
It's frequency response is so wide you could hold it Horizontally, (for Vertical polarisation - weirdly at first), for FM repeater/simplex work and Vertically, (Horizontal polarisation), for SSB work. Same gain as the Yagi but take a closer look at commercial Yagis and you'll find you have to pick your frequency of use they being so narrow-banded.
So go on, build yourself an antenna.
Just don't try this for HF frequencies, a CB/10m unit would be 10.81 metres, (35 and a half foot), wide!!!!
Once again more of my waffling. If you got something from it then it was all worth it.
All the best,
Victor