Most people like a bargain. Even those who aren't short of a bob or two, which is clearly evident by the number of locals I see shopping in our local Aldi and Lidl in their designer tweed waistcoats and caps, and frequent visits by royalty to our closest Mole Valley Farmers. So…
I just wanted to highlight a cheap option for power supply sources for radios. Some of you may already be well aware of this, but for those who are new to radio who are looking for a PSU to power their mobile unit at home and are struggling to fund the cost of a new dedicated CB/Ham PSU this could be an option for you.
Repurposing HP Server PSUs
There are many guides on the net if you do a search for 'HP Server PSU for Ham Radio', including quite a few how-to videos on YT, so not going to do a massive write up. Just few notes on a very basic one I have done for home in case it helps anyone later on.
I chose to use a lower wattage PSU because I have no need for a 100+ or even a 60 amp output one at this time and consider myself environmentally conscious. The one I chose is specked at just 38.3A output. For those who do need more power the second-hand costs for the higher wattage units are only very slightly more than the low wattage ones.
The PSU has a spares part number of 511777-001. There is at least one video showing this part number PSU being repurposed on YT. However, even though the part number was the same as the one in the video, the model number of the unit I acquired was different, mine being a HSTNS-PR17, not a HSTNS-PD14.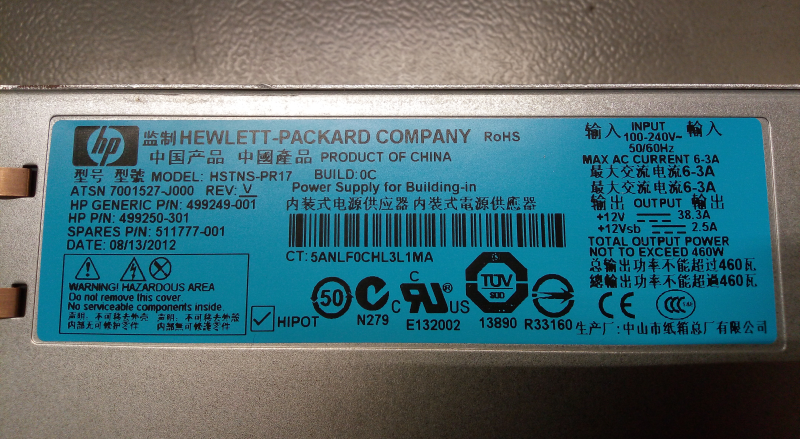 A simple jumper wire soldered across the first and fourth (shorter) connector would not power the unit on. I had to solder in some resistance across them for it to do so.. this trick is shown in a few how-to videos for other HP PSUs (not really a trick if you think about it, it's needed because the servers these were installed in do not have power buttons directly connected to the PSU, they have a path through the main system board between the PSU and power button on their Ops panel which is another little separate circuit).
The resistor value I used was 480Ω (actually used two 240Ω in series as that is all I had to hand). The output voltage read a rock steady 12.2V which was the right side of 12V for me and well within the upper and lower specs of the 6900n I've bought to get back in to this pastime.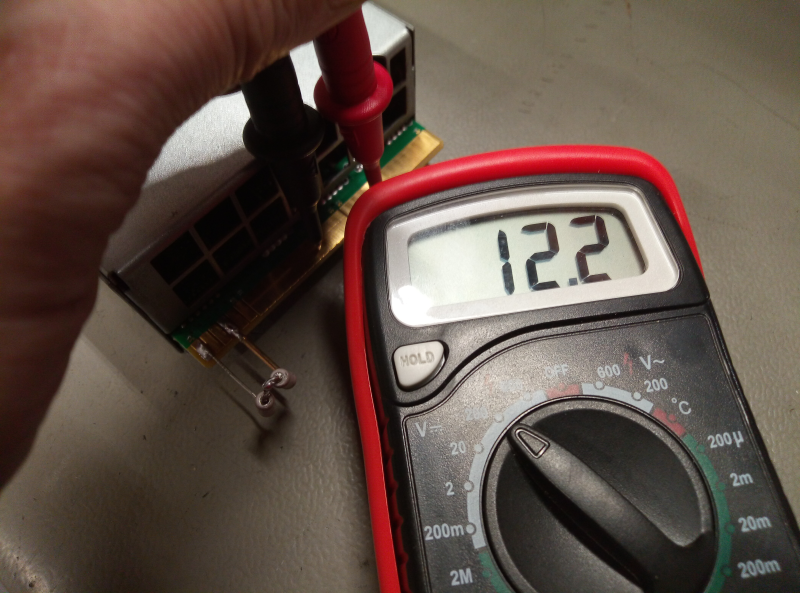 I soldered the rig power lead to the PSU terminals edge connector. Interestingly when I measured the voltage at the plug end of the wire before plugging into the radio it was reading a steady 12.3V, so gained 0.1 where I thought I might lose a little if anything. So happy with that.
I mounted inside a discarded IBM tape drive chassis which I had another project housed in last summer. Just held still with a couple of cable ties and one screw so that it was earthed to the case. The gap in the front of the chassis I had previously filled with a couple of perforated metal media bay blanking panels from an old RS/6000 server. It's much larger than the PSU unit, I could probably fit a couple more in there, and I might fit an additional higher output one along with it at later date.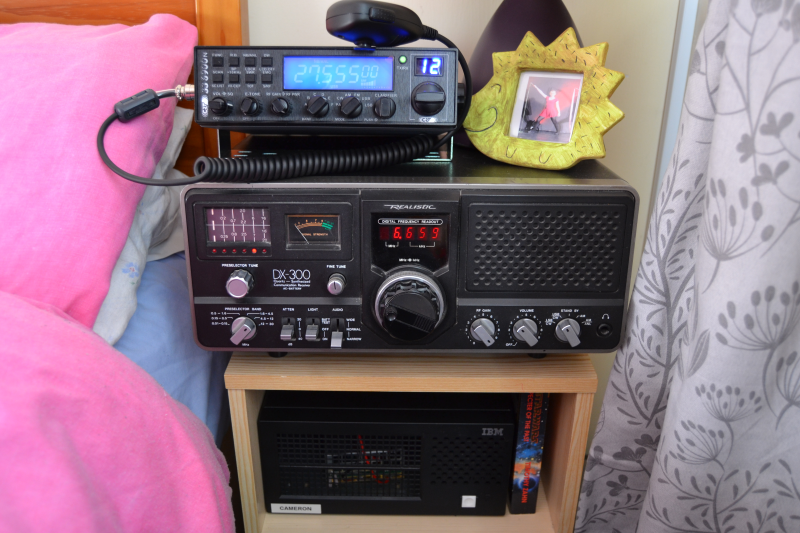 For those who might be worried about noise on receive, there does not appear to be any. I have a constant high level of background noise as many people do at home now. However, I connected the rig up in the car and the have the same level and sound of noise there too, so no significant noise is coming from the PSU.
For me all parts I used cost nothing, they were being skipped, and I did the little soldering at work. But for most people if purchasing you should easily be able to get a used PSU and resistors from fleabay for under £10 in total. Yes you need a soldering iron, solder and multimeter, but if you don't have these and can't borrow them from friends or neighbours, the total cost of buying them new will still make your whole project
probably
cheaper than a new 30amp PSU and are useful tools that you are bound to use again if you continue with radio experimentation in the future.
Hope my waffle helps someone save a few pennies. Even without doing the internal mod to up it to 13.8V this is a much better option than trying to run your rig off a model train controller or a laptop PSU (yes I tried the former when I started back in the day, I am sure I wasn't the only one, and won't be the last).
Disclaimer and warning
These PSUs can pack a punch from the output connectors, be very careful not to short them and that you have a fuse inline with kit you are connecting. The caps inside can also store high voltages even after the mains supply has been disconnected for a while, be very careful what you are touching if performing internal mods to increase the voltage. I do not accept blame for injury to yourself or your equipment, if you go ahead with this or similar project you do so at your own risk.