Hi All,
Another 'homebrew' posting utilising my big old variable capacitor that I used on my
Magnetic Loop antenna
.
My earliest fascination with all things radio was staring through the holes in the rear grille of a valve radio as a young boy. How on Earth could these little glowing tubes of glass and bits of wire pickup signals invisible in the air to bring me voices from afar. As a child it was all miraculous and I still have that intrigued feeling whenever I see circuitry that appears more mechanical than anything else.
(Unlike looking into a modern radio that appears mostly green with weird little dots all over them!)
I got that same feeling whilst building a Z Match coupler to assist me with matching impedance on my doublet antenna.
Take a shifty and you'll see what I mean with 'mechanical' aspects....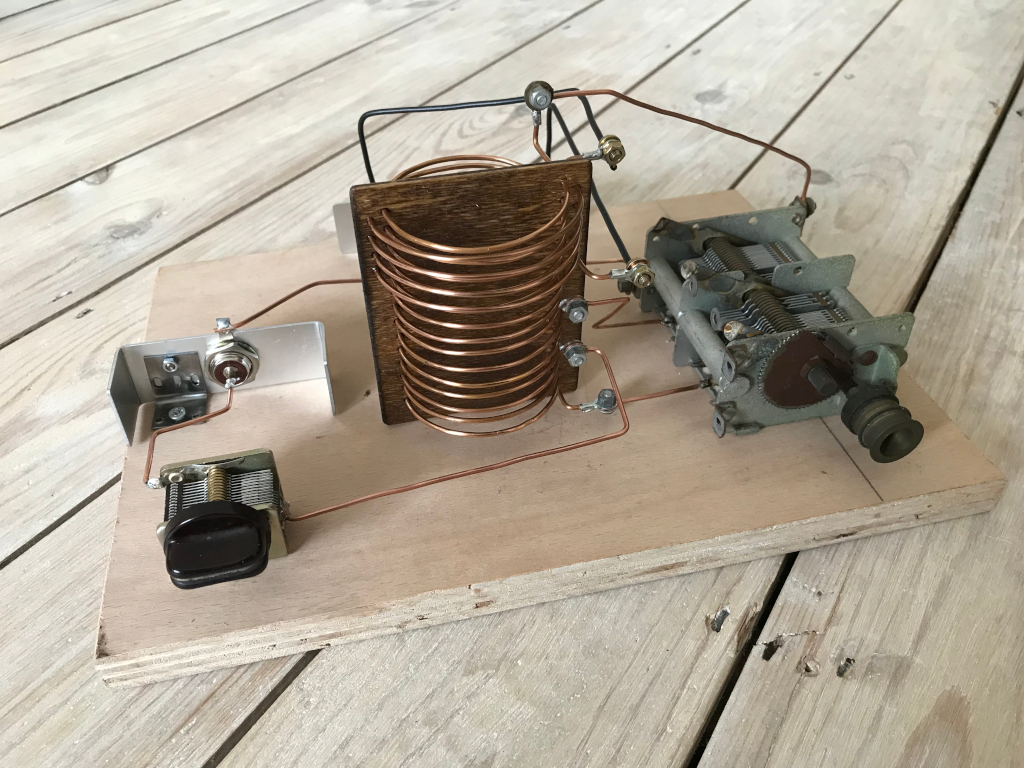 ...and for the rear....
Pretty much 'breadboard' style reminiscent of radio technology of vintage years.
OK, it might not be as 'pretty' as an ATU made up of custom capacitors with big old rollercoaster variable inductors but then it didn't cost as much either.
(Some people salivate over gold bricks, just a pretty yellow doorstop as far as I'm concerned.
)
I've got to admit I thoroughly enjoyed knocking this all together!
For starters I didn't have to don a magnifying headset to even see the components much less eek my now ageing bear-paw hands into dexterous pincers.
So did it work?
Yes, very well matching the doublet from 40m to 10m and could even squeeze out good reception on 80m. Bit 'tight' on the old tuning though which the Z Match circuitry is renowned for, (tighter than a camel's backside in a sandstorm!), and made it less than friendly to use. Of course there's "modern" circuits that utilise small polyvaricon tuning capacitors and ferrite toroids suitable for QRP that you can even buy. But that big old coil doesn't saturate as easily and those caps won't arc as much. But why is it not in a big metal box? Well it might have been had I decided to keep using it but it came apart much more easily than putting it together. Yep, another experiment that taught me a few things then I moved onto the next thing.
(A 'balanced balanced antenna tuner' as described by AG6K in a 1990 copy of QST magazine is next - getting closer to modern times!
)
Why do I keep posting this sort of stuff?
No reason other than sharing a bit of my happiness. Some get that from a good DX contact or maybe acquisition of that expensive radio they've been lusting after. We are after all very different despite all being the same species with a fascination for electromagnetic emanations. Radio really does have many fields of interest.
Which is why you'll often see a 'Like' from me, (maybe the odd 'Thanks' vote or comment), to anyone that posts their home constructed antennas, station setups or similar.
Plus it adds something different than the usual "give me a call sign" postings, (who then disappear without so much as a thanks to our Gary!)
Have you got something you'd like to post? Then give it a whirl and share a little bit of your 'happiness'.
Enjoy your radio, no matter what it may be.
All the best,
Victor