Unfortunately, there is really no easy answer to this question.
If you are running a magnet mount, or some other mount that is completely external to the vehicle, this is a common problem, and in the last few decades it seems to have gotten worse as the openings in doors and such have gotten smaller, leaving less and less room for
coax
.
The ideal way to fix this type of problem is to drill a hole.  If that isn't an option, you can look for a mount with a thinner
coax
, but that will also cause some issues.  You can also try a lip style mount (such as on a trunk), in this case while the opening is the same size the mount being right at the opening will cause the
coax
to move less, which may have an effect, assuming the opening is large enough to prevent pinching.
You could also try something like the image below, this specific one is made by Diamond and can be purchased at DX Engineering.  That being said, this one you would need to cut the
coax
, and you would want to ensure the connection won't move around and damage the paint on the vehicle.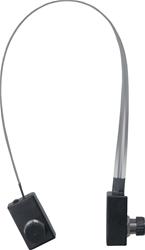 Finally, if you have enough
coax
, you can route it under your car where you might be able to find an opening to let the
coax
into your vehicle.
The DB