Hi all,
I hope everyone is well and most of all enjoying your radio.
I was kindly donated another radio to me by my very good friend and fellow Ham Koenraad recently. (He also donated the Kenwood Trio TR-2500 2m HT to me a while back which I enjoyed restoring!)
As the title says a Yaesu FT-290r......Yes, a multimode 2m radio! Ideal opportunity for me to experience VHF SSB.
It didn't work, or sort of did but had a known fault with the VFO dial not working. My dear friend handed it to me along with a spare VFO encoder, a power adapter plug, the original hold all soft case with strap and a slightly 'dodgy' but working Yaesu microphone. Absolutely and splendidly generous of him. (Still can't thank him enough.)
Now, some people might be disappointed being handed a broken radio but as I love delving into them and as a former electronics engineer it wasn't junk but pure gold.
Sure enough on power up the LCD displayed the frequency but the VFO control didn't do a thing. Powering down and back up the frequency would jump up by the amount the mode and 'step' button dictated, from that it seems the microprocessor is working which is good.
So onto opening her up and seeing what's what......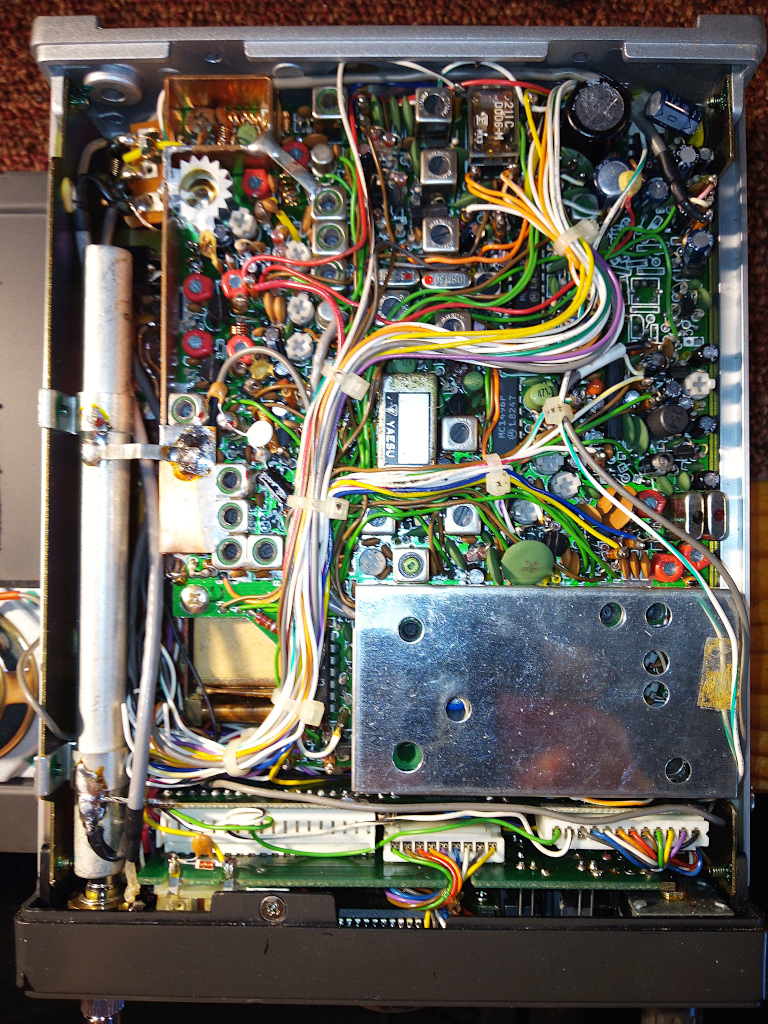 AAARRRGGGHHH!
Or maybe the insides would put that fear into most, but for me it's all pure electronics and radio pornography!
A quick look around showed signs of once upon a time being stored with depleted batteries left in it. Corrosion was visible around the battery bay contacts and one of the battery holders didn't match obviously being replaced at some time. This radio is 1980's vintage and I know my friend didn't have it from new so this could have happened at any time. I've seen similar corrosion in other images of this model of radio.....
Switch cleaner and methylated spirits works well on such corrosion the addition of a brush and fibreglass pencil soon cleaned her up. The past battery depletion/storage event had also caused light corrosion on some of the components but was more visually superficial than anything and also easily cleaned up.
These radios are a P.I.T.A to work on! The hoo-hah involved with taking the front panel off is well documented and well founded!
But we got there.........
A quick power up showed that the encoder did have power going to it as well as sending pulses verified with my ancient oscilloscope. Hmmmm, the spare encoder I was given had a much better indent 'click' so I may as well change it while I'm there before digging further.
The only other thing that could have been wrong was the next component(s) in line with the encoder and a check of the schematic showed as such........

Between the VFO encoder 'S02' on the left and the microprocessor 'Q01' on the right is 'Q04' a 4069 CMOS Hex Inverter. It provides the connection between the VFO encoder and clock pulses to the microprocessor so had to be at fault.
Further disassembly of the pain in the ass front panel and associated PCB panels gained me access to this chip. A royal pain to desolder even utilising desoldering wick and a known issue with these 1980's designed PCB's!
Whilst I was there I noticed some damage to C03 a 10uF electrolytic capacitor........one of those infamous 'leaking caps' everyone harps on about? Nope, damaged from someone 'inspecting' it probably with the use of a screwdriver ruining the can and seal. Pulled that bugger out and plopped in a new one.
Well out came the chip and lo and behold...........I didn't have one in my component stocks. Bugger!
Ordered some, put the radio away until the snail mail delivered the spares.
A few days later the spares arrived, got the radio out, replaced said chip and Hurrah! all working! Tuned up and down sweet as a nut and then noticed another problem.......
The audio would slowly break up regardless of mode and after a few minutes disappear altogether! Damn!
A quick spray of air across the audio chip would cool it enough to bring the audio back for a little while. Thermal runaway at it's very best example.
Did I have one of them in stock? Did I buggers like, so back to ordering one online and waiting for the snail mail once again.
(This particular chip is 'obsolete' and so vendors try to charge a fortune for them! A search around found a reasonable price from a vendor not trying to rip you off.)
A few days later, (again!), the audio chip turns up and I duly replace it.......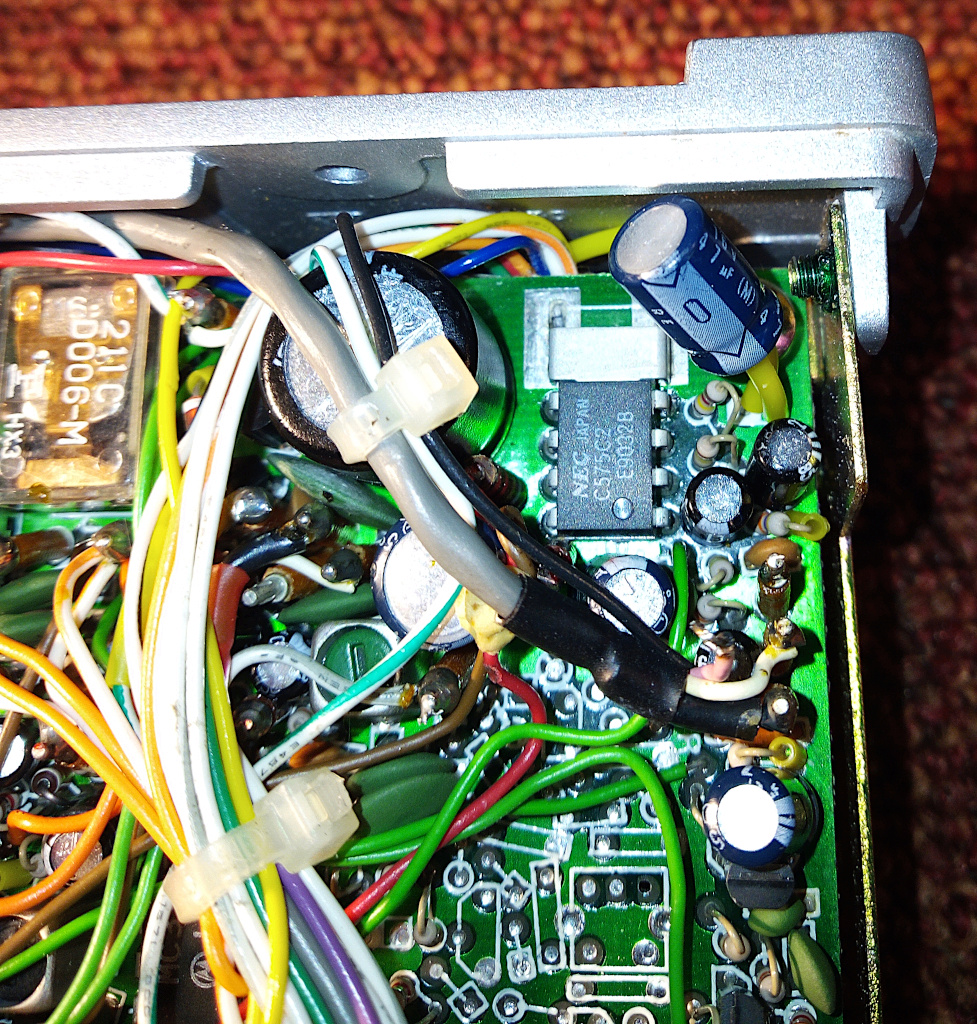 That was real test of my ageing bear paw hands and failing eyesight. Less of a pain than the 4069 on the front panel though!
Powered the radio and up she fired.
Very happy bunny!  
Tuned around for a while picking up many stations, (seems there was a VHF SSB contest going on and a check revealed it was the first Tuesday of the month when these occur). Works fine, tunes fine and the audio was great with no further problems. Awesome.
So impressed with it that I sent a video of it working to my dear friend who donated it to me. (Along with my other dear friend Gary, another Ham that played a big part into me getting my Amateur licence.)
Texts came flying back about jumping to a certain frequency on SSB and before you knew it we were holding a test and a little net.
Without help from a repeater we have difficulty usually reaching each other on 2m FM.....not so on SSB! Despite the lowly 2.5 watts on this Yaesu and my wire dipole in the loft vertically configured for the usual repeater work we happily chatted to each other. I must admit I giggled like a girly overly excited about my shenanigans and this opportunity to chat to my friends. My very first VHF SSB transmission too!
There's a few more things that need sorting....it doesn't have a CTCSS for repeater access but as many of you may have witnessed, I built my own for the 1970's vintage Yeasu FT227r I bought a short while ago. I may well have to build another.
I have plans for some other modifications - none of them involving 're-capping' or digging around with a 'golden screwdriver'.
(Some of the documented details online for this radio and it's repair really leave a lot to be desired.....)
So, after a rather long winded posting, (unlike me), I'll leave you with one further image.
I'm now the proud owner of a working Yeasu FT290r, a classic in it's own right.
Someone will probably point out what a great mobile/SOTA/HOTA/Out-door'sy type of radio this is. Much appreciated but I'm disabled and been housebound for seven long years....but she may venture out in the garden on a summer's evening for maybe a chat with my friends.
Hope I didn't bore any of you too much, (you could have stopped reading).
Just sharing one of my life's little pleasures and my own personal take on enjoyment of radio.
All my very best,
Victor