Hi All,
I hope you're all keeping well and most of all enjoying your radio.
I'll bet that there's some of you that can't walk past a skip of rubbish without a curious peer inside it. I know I can't and often as a younger man on my travels I'd find myself scrambling inside a skip if there were any good pickings! (After asking permission first of course.
)
Now that I'm an old fart and housebound crippled the opportunity doesn't strike as much so you can imagine my delight when the neighbour had a skip plonked on their front lawn recently. Went round there as fast as I could hobble on my crutches(!) and asked my neighbour if I could have a 'peruse' through. (Great woman, been neighbours for donkeys years.) Slim pickings but grabbed a couple of junk items that might come in use one day.
A recent roofing job had seen the workers destroy my old fan dipole array antenna setup in my loft but my missus did a fantastic job of stringing up a dipole for 10m recently. (To participate in the Charlie Tango 10m Summer Challenge).
Still could do with something better than that and didn't fancy sending the missus up the loft hatch to string more dipoles so set about coming up with an idea for a multiband antenna.
One idea soon presented itself with a 44 foot Doublet, link below :-
http://webclass.org/k5ijb/antennas/Only-one-wire.htm
Yeah, some have already cringed at me about ladderline feeders and I'll bet someone will moan about imperial measurements. (13.4 meters if you must.
) However, input from a fellow CT member, (The DB), set me straight that this might be a good idea.
So, onto the skip pickings....
55 foot, (OK, OK, 16.7 meters), of twin core mains flex from an old lawnmower.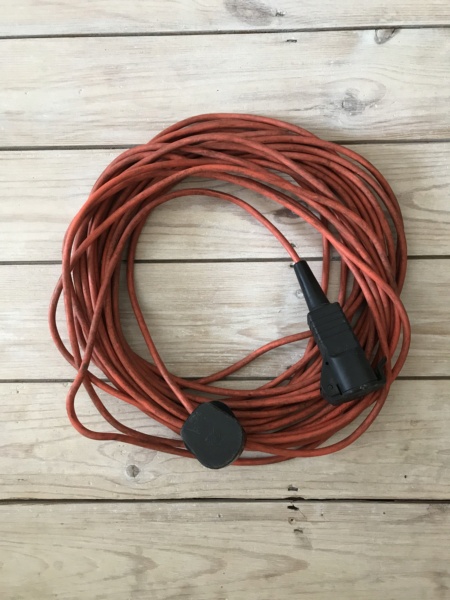 A curtain rail, unused but missing all the rail sliders. (?)
I'll need to scrabble around for a few more bits but that should get me started.
Now, stripping cable can be hard on your hands but with a simple bit of wood with a hole big enough to slide the cable through and a screw poking perpendicular the cable can be 'scored' to make stripping apart easier....
Didn't take long and I started measuring out lengths ready to make up the antenna and feeder. After a bit of saw work and knocking up a quick jig to drill holes I soon 'converted' the curtain rail into ladderline spacers...
Yeah, none too shabby.
Now I had to think about this all a bit more knowing that it would be my missus up in the loft and would need to be a fairly easy job. Luckily I remembered having a screw hook right at the apex of the roof timbers and slap bang in the middle of house width. If I could just figure out a simple fixing that she could just 'hang' then all the better......hmmm, 'hang'....Ah yes! A hanger!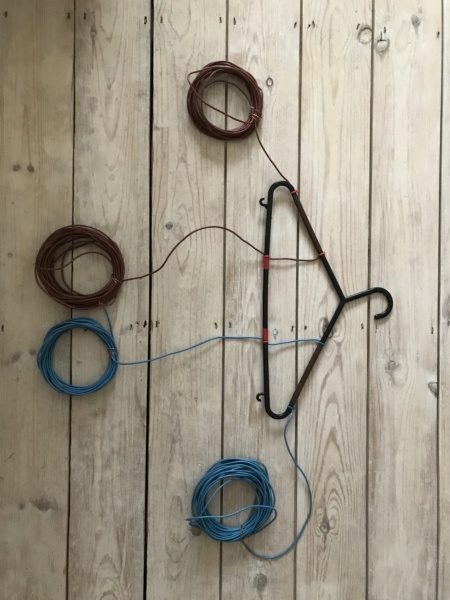 I'm sure I've seen a clothes hanger used before, maybe on a SOTA website but a great idea nonetheless and I soon had the measured lengths of wire cable tied and taped to the hanger.
Now onto the fun of feeding all those ladderline spacers I made through....
What a tangled web we weave.....
Didn't take as long as it looks and was a surprisingly soothing task listening to those wires zip through that old curtain rail.
Unfortunately there's no pictures of my missus, (who was by then red faced), stringing this lot up in the loft for me and she hates having her picture taken at the best of times(!) But she managed to string it up in a NNW/SSE direction draping the very ends of the doublet wire over the end rafters as the loft isn't quite wide enough. Should be good to go.
Unfortunately I haven't yet scrounged enough parts together to make myself a rather lovely Balanced ATU for all this so set about using a BAL-UN to hook it up to my homebrew Pi-Match ATU. Oh, arguments abound on how to solve this one and after some playing around with multiple toroids wound in all sorts of fashions I settled on a simple 4:1 Ruthroff......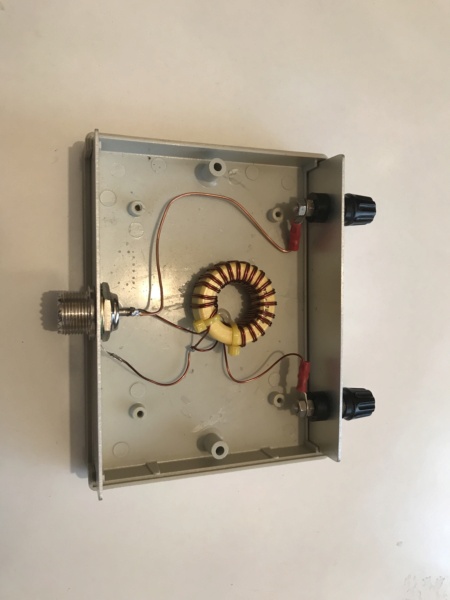 In a box no less, with connectors and everything!
The box was from some long distant abandoned project and I just cut a couple of aluminium plates for it. (Which came from some 'skipped' door protector plates.) The screw terminals were from a junked old, 'MOT tester' and the SO239 from an old radio. The toroid? T130-6, freed from an old power supply unit. Liking the prices? Hasn't cost anything yet.
Is a T130-6 any good for the job and how did I find out what toroid it was?
The following site provides some handy measurements helping to identify such things :-
https://toroids.info/T130-6.php
So with it all hooked up to my Pi ATU I set about finding the settings with a marvellous little bit of kit donated to me, (thanks again Alan!!), namely a NanoVNA sweeping the frequencies I should be able to get with this antenna. I could easily match everything from 40m to 10m, (7MHz to 30MHz), from a low 1:1 SWR with the maximum reading being 1.4 which should do the job nicely.
I can hear some of you seething right now ready to bash at that keyboard........
The 4:1 Ruthroff is doing the job for now and hooking up a 1:1 in any guise just screwed things up. Yes, the ladderline comes right into the shack and keying up my licence limit of 10 watts on any of the frequencies causes no problems whatsoever, no PC speaker buzz, disturbed monitor images, microphone 'kiss' or anything. In fact my RF current meter, (homebrew), showed up no problems at all with 'leaking' RF.
Does it work? Well I've had a chat with a friend on 40m so far and unfortunately he couldn't QSY to 10m for me to claim a point for an English contact!
Further on-air testing will proceed. (I've only just got the whole flipping thing hooked up!)
Plus the bands have been pretty awful since I hooked it up confirmed by listening to several webSDR's. (I nearly thought it or the radio wasn't working for a moment!)
It won't make me a DX king that's for sure but it's got me back on air which was the ultimate aim.
(40, 30, 20, 17, 15, 12, ahem 11, and of course 10m band operation.)
For my first play with 'ladderline' and a doublet I've been quite pleased. Now onto trying to scrounge a variable capacitor for my balanced ATU which of course I may post details about. Oh, did I mention my Zetagi SWR meter conversion to a 'Tandem Line Bridge' to check this lot? I'll save that for another posting.......
Antenna for 'free'. Can't be bad.
Apologies for the long posting.....some of you know me better.
All the very best,
Victor