Hi All,
I hope you're keeping well and most of all enjoying your radio.
Recently I'd made mention about some experiments I'd performed with my way too short
44 foot Doublet
antenna.
Despite it's diminutive size I've managed to press it into service already for 80m using my Pi-Network homebrew ATU.
(Was extremely pleased at making my QRZ World Friendship Award for 80m despite this antenna's small size.)
This all came about after reading an article here :-
https://www.dj0ip.de/open-wire-fed-ant/short-antennas/short-160m-antenna/
It pricked my ears with interest and I set about to utilise what sits in my junkbox. (Pretty much the whole of my shack is a junkbox!)
One old broadcast valve radio variable capacitor later, (that's been pressed into service for various projects and now pushed for this), plus a fat T200-2 toroid later, (I didn't have the huge and expensive T520 toroid mentioned in the article), and we landed up with this monstrosity.....
Bit of a tangled mess isn't it? 
None of that matters, it's whether it works or not that's important.
A quick test with the NanoVNA I luckily have assured me that it should work and a test transmission showed that I could get a good 1.1:1 SWR. (Not going to claim a 1:1 or even get into the arguments of what that actually means.)
With my Foundation licence 10 Watt limit we had no RF feedback so no issues in the shack, the link coupling, (bit of RG58 wrapped around the toroid and windings), ensured the doublet antenna is both galvanically isolated and as balanced as it can be. Handy, because then I didn't need the ubiquitous 'earth'.
The toroid also didn't heat up in any appreciable or detectable way either.
So does it actually work?
Well I suppose that depends on your point of view....
It certainly works on 80m being pressed into some FT8 action and makes the short bit of lawnmower lead in the loft, (ahem - antenna), less noisy than with the old Pi ATU. Always a bonus to improve your signal to noise ratio. I can actually hear more SSB transmissions than the local webSDR does with it's full size G5RV!
So last night, (18/08/22), I pressed it into service dialling that VFO on my old Yaseu FT757gx to the 160m band.
Bit of a tweak to the ATU variable capacitor and greeted with some white noise soon to come across the old 1942 net boys. (1.942Mhz) They were booming through from S5 to S9 but all a good radio 5.
A bit further up at 1.895MHz and the W.A.B. (Worked All Britain), fellas were coming through with one station at S9 +30!!
Dialling down I came across a French speaking Net, a little noisier but still legible with S3-7 signals.
Finally down at 1.840MHz the FT8 frequency to be greeted with........absolute silence!?!
Where is all the FT8 whale-song that always seems to come through regardless of prop forecasts on the other bands?!
I stuck with it making CQ calls hoping to hear at least something or a PSKReporter site report come back to me. (There were all of 15 stations monitoring FT8 according to PSKReporter.....in the whole world!!) Soon there was a Dutch station also calling CQ but despite several attempts at contacting them I never got a response. Perhaps this isn't working as well as I expected?
A short time later and a UK 'G' station started calling CQ so rather than give up early I called them.......and I got a response!!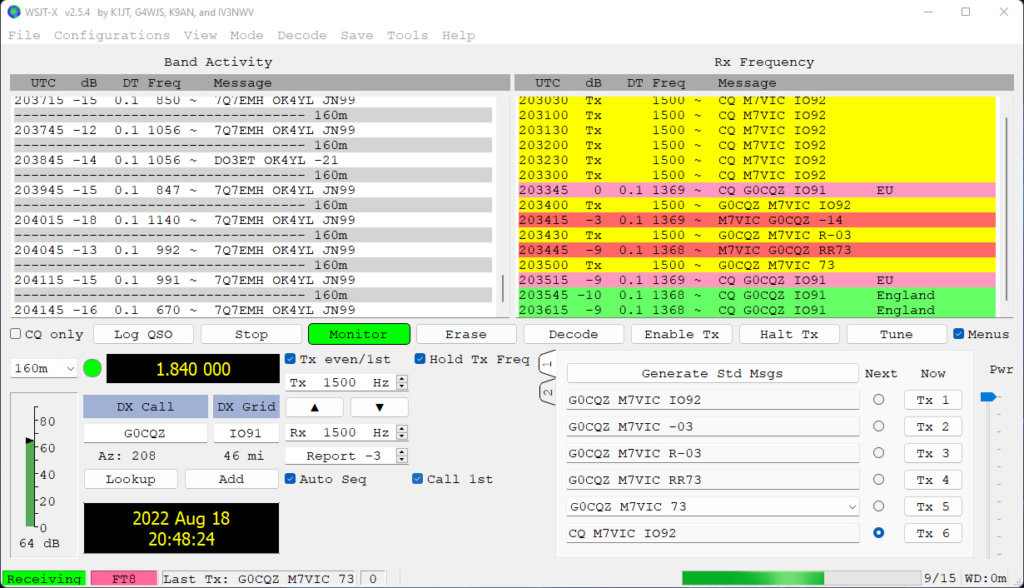 My very first 160m contact!
Very pleased with myself and the heap of junk I utilised to perform this.
Now, some of you might not be that impressed.....A 46 mile contact? The next 'square' over? On FT8? Bit pathetic isn't it?
Not so......especially with such diminutive equipment available to me.
I've always said "Never Say Never" and also "Any antenna is better than no antenna". I certainly wouldn't have a 160m contact in my log had I taken thoughts to the contrary. Amateur Radio can and should always be about pushing yourself, to experiment, to see what you can achieve and I think I managed that well.
What now?
Well, I'm going to rewind that toroid with some thicker wire now that I know I need fewer turns and house it up with appropriate switching just for 80m and 160m work. Some 4mm banana plugs on the lawnmower lead ladderline should enable me to switch the antenna over more easily. As the winter months come on and the higher bands die off a little I'll be able to plug up and check those lower bands for some action.
Hopefully I'll be able to beat that so far personal best of a 46 mile contact.
I could give SSB a bit of go, especially as my 10 Watt Foundation limit isn't far off from the Intermediate and Full licence 32 Watt limit.
https://www.ofcom.org.uk/__data/assets/pdf_file/0027/62991/amateur-terms.pdf
Let's see what that 'short' antenna can really do.
More of my 'waffle' but I do enjoy writing about what I'm up to and hopefully it inspires someone else to give such things a go.
All the best,
Victor