Hiya All,
Hope you're all keeping well and enjoying your radio.
A little while back I made a CTCSS Encoder for my 1970's vintage
Yaesu
FT227ra :-
https://charlietangodxgroup.forumotion.com/t3088-homebrew-ctcss-tone-encoder?highlight=CTCSS
Works well, still working so job's a good'un.
My
Yaesu
FT290r All-Mode despite repairing it after a kind donation, (thanks again Koenraad!), and modifying it to have SSB RF Speech Processing still doesn't have CTCSS.....
So I set about rectifying that.
Now, once again I could have taken the 'simple' path and forked out for a CTCSS board, but where's the fun in that?
So I got the breadboard out and decided to muck about with another design I'd seen that was much simpler than my last one. Unfortunately I can't find the original documents/web page where I saw it so just had to work from the few notes I feverishly scribbled in my notebook at the time.
This circuit was so much better, a dual op-amp in a single chip, simple regulation with a zener and it produces the most beautiful sine-wave I've ever seen! Very stable, nice and clean so should be just the job. 
Much smaller too so out came my bestest reading glasses and cut my old bear paw claws/fingernails to handle it!
Et Voila :-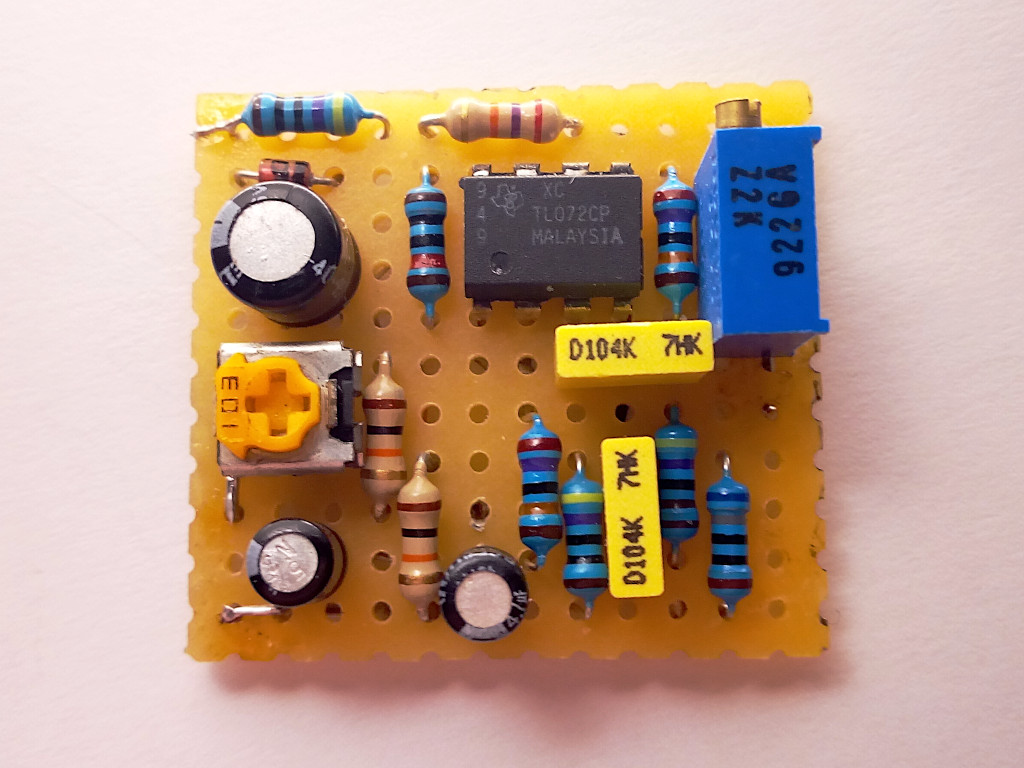 None too shabby and miles smaller than the last one so should squeeze into the FT290 without problems.
.....unfortunately I cut the board down to size, so had to add another bit of board to mount it inside the radio. Doh!
After a bit of tracing the circuitry in the radio for the wiring I even managed to mount the whole thing where the original CTCSS unit would have sat :-
Went in well.
The nice thing about doing this is that I can use the original switch to turn the CTCSS off saving a few mA of power for when I get her running on batteries again.
Now, once again the same as my last tone-board this one only produces a 77Hz tone......which will do fine for the repeaters I can get to on my dismal VHF setup.
Until I get on with my plans for a 2m Yagi....
It seems to work well with a variety of dual op-amps, (of which there are many), and I tested the breadboard version out with all the ones I have in my parts/junk boxes. That includes some surface mount versions so I may even be able to make a unit small enough to squeeze in on my old Kenwood Trio TR-2500 handy! If my eyesight and bear paw hands can manage it of course.
So, thanks once again for putting up with my 'waffle'.
I enjoyed building and installing this board, occupied a few hours of time and kept the old grey matter working.
I've already dragged an old 1970's radio up to date and now I've dragged a 1980's vintage radio to join her too. Love it!
All the best,
Victor